When you bring your new puppy home, he/she will be healthy.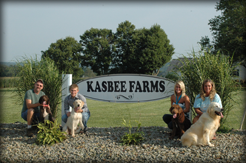 The health of our pups is something we take very seriously here at Dog Gone Doodles. Your puppy is healthy due to the special care that we provide: a strict vaccination and deworming regiment and NuVet Plus™. If for any reason you do not choose to continue with the program, please be aware that over time, your pet's health will likely begin to suffer. NuVet Plus™ is a lifetime preventative supplement, not just something that we like or something that we started. We use NuVet Plus vitamins with all our dogs here at Dog Gone Doodles. We have a good breeder friend of ours to thank for sharing his secret with us. We went over for a visit and noticed that all of his dogs' coats were immaculate — very lush and soft. We asked him, "What is your secret?" He said that he uses NuVet Plus. We became believers and made NuVet vitamins part of our kennel's daily programs.
We have since discovered that NuVet does so much more than improve your dog's exterior, it is proven to heal and protect their bodies from the inside out. Look at it this way: if NuVet vitamins saves you just one major trip to the vet, it could pay for more than a lifetime supply of NuVet Plus vitamins.
We have tested this product ourselves and have experienced fantastic results in our own kennel, so we highly recommend it to our customers. It is truly the best health insurance plan out there, hands down.
Dog Gone Doodles
Brian & Melanie Kasbee
---
Order now, or learn more about NuVet Plus™ below!
Enter code 29797 at checkout!
---
Get your pet healthy. Keep your pet healthy!

Is your pet suffering from Allergies, Skin and Coat Problems, Scratching, Itching and Biting, Hot Spots, Arthritis and Joint Problems, Premature Aging, Low Energy Levels, Diabetes and Liver Problems, Cataract and Tumors, Digestive Problems, Tearing, or Heart Disease?
We love animals and we know you love them too!  Unfortunately, the majority of dogs and cats are not receiving a complete, healthy diet and many become ill and die prematurely.  NuVet Labs™ main purpose is to help increase your pet's longevity and quality of life. Our products, NuVet Plus™ for Canines and NuVet Plus™ for Felines, provide the very best human-grade, natural ingredients available and utilize the latest advances in medical, veterinary and nutritional science. We pledge to adhere to the highest standards in products and services. Our goal is to maintain a lasting and caring relationship with our family of NuVet Plus™ customers and their pets they love.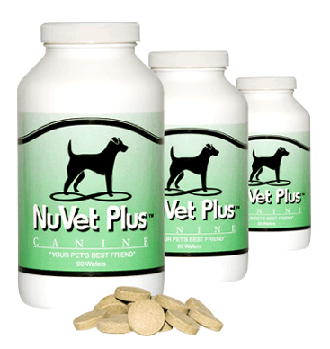 Our scientists, veterinarians and formulators began with the premise that most pet diets are lacking the proper amounts of vitamins, minerals and antioxidants. There are important nutrients that animals once received when they were living in a more primitive environment that are not available in the modern diet. Commercial pet foods contain numerous by-products that can make them poisonous, toxic and incapable of reducing the devastating effects of unstable oxygen molecules, also known as "free radicals." Free radicals have been implicated in more than fifty health problems in humans and animals including various forms of cancer, heart disease, arthritis, cataracts and premature aging.
After extensive testing with many different combinations of ingredients, our scientists formulated NuVet Plus™. We believe, based on the most current medical, veterinarian and nutritional reports, NuVet Plus™ will combat the onslaught of free radicals in our companion pets. This unique formula consists of precise amounts of vitamins, minerals and high-potency antioxidants that when combined, create a synergistic and powerful boost to the immune system.
---
Dog Gone Doodles recommends NuVet Plus Vitamins to get your pet to perfect heath.
NuVet Plus™ is so pure, it is one of the few pet products manufactured in an FDA (human-grade) pharmaceutical manufacturing facility!
Dog and cat versions available
No sugars or fillers
Money-Back Guarantee
To order call 800-474-7044 or visit their website at http://www.nuvet.com/29797 and be sure and mention our Breeders Code 29797. Remember the more you order lowers your total cost.
Enter code 29797 at checkout!